A bike ride from Paris to Brittany, along the Seine, the Loire and the Nantes-Brest Canal. Day 7

A bike ride from Paris to Brittany, along the Seine, the Loire and the Nantes - Brest Canal. Day 7
Le Cramezeul - Malestroit. 102km. Super weather !
Woke up at the usual time after an OK night except for a long hooting session, courtesy of a couple of local owls !
Excellent Chambre d'Hôte breakfast !
Rock'n'Roll carefully loaded. I didn't want Daniel to think that the lessons he taught me during our three-week trip to Prague last year were already forgotten!
Blue sky and lots of sunshine !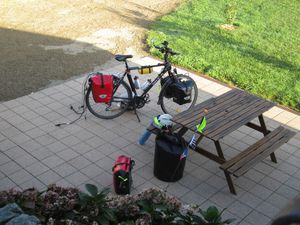 At 9.00 AM I was on my way down the lane leading to the towpath, one kilometer away, for a 102 kms of pure happiness along the canal.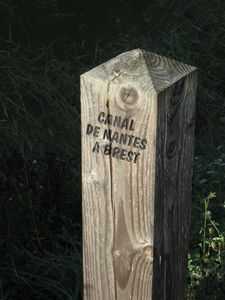 Apart from a few dull sections, most of the ride was magic ! The morning mist hovering above the water quickly disappeared giving way to all sorts of colours and reflexions.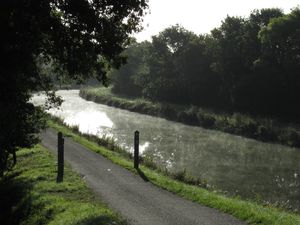 The tow path was lined with meadows, tall poplar trees and hedges hanging down from uneven banks. The canal wove its way through the country-side, passing through small woods or farmland.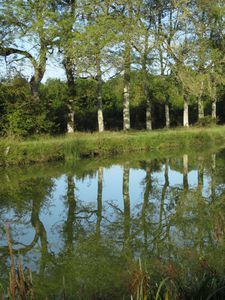 Each lock came with its distinctive features and many seemed to be competing in a gardening contest !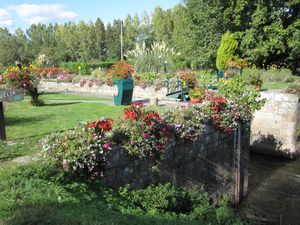 The flowers, the birds, the frogs and all sorts of other gifts from Mother Nature were suddenly awake, brought to life by the sun that had finally come !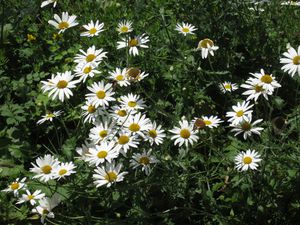 No wind, a nice flat ride, beautiful scenery: Ideal cycling. Serious picnic at Pont Miny.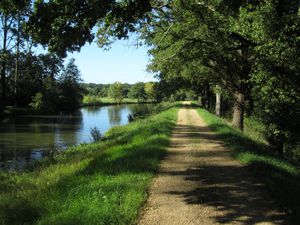 Further along, an angler had just caught a pike. He was busy measuring it, making sure it was above the minimum 50cm. Lucky man, it was ! I could smell the quenelles !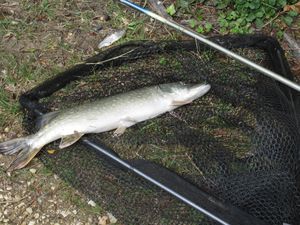 Redon: quick stop at the Tourist Info Office for a stamp in my Log book. Beautiful Compostela Pilgrim stamp in the shape of a scallop shell. The city is quite unique. It straddles three "départements": Ille et Vilaine, Morbihan and Loire-Atlantique that join up at the confluence of the Vilaine and Oust rivers that flow through the city. This medieval city is well worth a stop.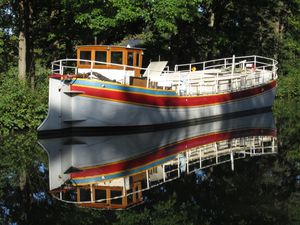 Continuation along the canal towards l' Ile aux Pies, a very beautiful area where the Oust flows below high granit cliffs topped with pine trees. Incredible tree-top climbing set-up St Vincent sur Oust.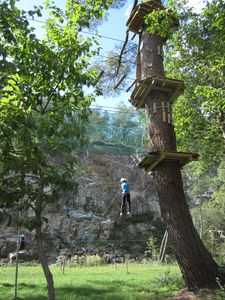 Cables ran from one tree to another, 10 - 15m above ground-level. The kids up there seemed to be enjoying the 'ride' !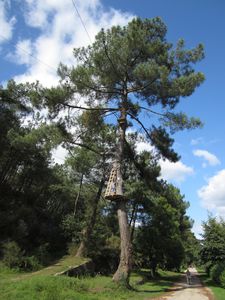 The path along the canal remained excellent even if in some places, the fine gravel topping was a bit of a pain.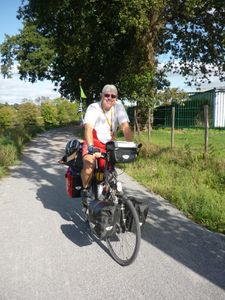 St Congard. Surprise ! Daniel was there, waiting for me with "Mout Mout" his faithful 'Breton Steel Donkey'. The last ten kilometers were spent discussing the trip.
A welcome shower, a few beers and a quick visit to the beautiful neighboring town of Rochefort en Terre...
Dinner... 2012 plans... More beer and to bed at 23.30 after a beautiful day of blue sky and sunshine.
Truly magic canal: early morning mist, herons, ducks, moorhens, tall white daisies, cliffs and pines....the cherry on the cake being the lovely welcome by Daniel and his wife !