Via Carolina, a bicycle trip from Paris to Prague - Day 2
Publié le 10 Novembre 2011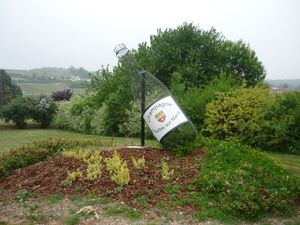 April 28th, 2011 La Ferté sous Jouarre - Epernay, 87km, 15.3 kph,
Champagne region !
Grey skies, rain at times.
Via Reuil en Brie, Luzancy, Méry, Crouttes, Charly, Nogent l'Arthaud, Essômes, Château Thierry, Gland, Jaulgonne, Trélou, Dormans, Mareuil le Pont, Nationale 3, La Chaussée, Damery, La Marne (canal), Cumières and Epernay camping ground.
As promised, we were up and on our way before 8 AM. Edouard, one of the young people running the camp was at the gate, waiting for us with a bowl ofclementines that we had to decline due to potential crushing in our bags. Instead, we stopped in a local café and had a quick coffee and croissant before heading East. The skies were low and grey, but the roads were still dry... Quite a change from yesterday ! The itinerary took us along the Marne river through a string of sad and desolate villages and towns.
Couple of pictures in Essômes, in particular of the 'Rue Staline' street sign... Quite surprising in 2011 !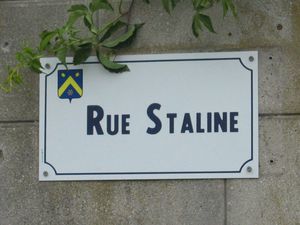 Lunch in Dormans: pork chop, pasta and chocolate pie... the horses were hungry !
After a while, we finally got to Mareuil-le-Port thinking that we had reached the place where the Marne river becomes a canal. Wrong road at an intersection and we ended up on Highway N° 3. The next 10km, all the way to La Chaussée, were a nightmare of rain and trucks. Finally, we turned off towards Damery and crossed over to the other side of the river.
First test of my "rain clothes"... Didn't take long to realize that I'd have to do some changes in the packing... No fun having to remove all the bags from the bike, in pouring rain, only to find that the nylon poncho was at the bottom of the last one !
In Damery, an old gentleman told us how to find the 'Marne canal': "follow the D1 road out of the village until you see a huge pile of bark on the right side of the road; turn into the path. The canal starts at the end, after two, three hundred meters". From that point, it was straight along the towpath until the exit to Epernay.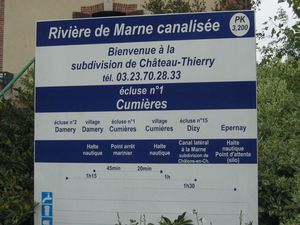 At the camp ground in Epernay, went through the evening ritual once again:
Tent installed, shower, shopping at the neighboring Leclerc, notes, beers and "dinner".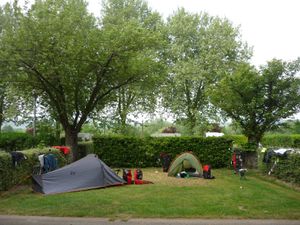 A walk around the grounds helped the food down before "retiring". Met an couple of elderly British hippies travelling in a psychedelic van. The alternator was shot and they were hoping to get it fixed the next morning. Good luck !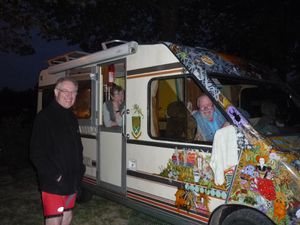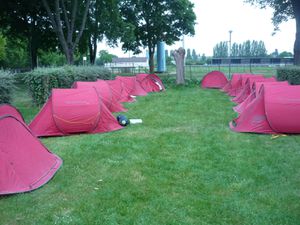 Got serenaded by a bunch of Parisian kids on a river-sport outing... we were getting prepared for the worst... at 21.30 they were out for the count...