Via Carolina, a bicycle trip from Paris to Prague - Day 10
Publié le 3 Novembre 2011
May 6th, 2011. Durlach - Heidelberg, 86km, 13.5 kph
Beautiful Weather
Via cycle path along Road 3, Weingarten, Untergrombach, Bruchsal, Ubstadt, Bad Schönborn, Leimen, Heidelberg along "US Army Avenue". Camping at "Heidelberg" camp ground.
Super night in spite of Deutsche Bahn and several main roads passing nearby.
Off at 7.15AM Northbound, through the towns mentioned above. Arrival in Heidelberg around 1.00PM.
On leaving the camp we met a cyclist on a home made bike, complete with cowlings that looked as if they had been cut out of an old laundry boiler. He probably hoped to gain a few extra kph but had a better chance of getting his head chopped off on the first "unplanned encounter" with oncoming traffic...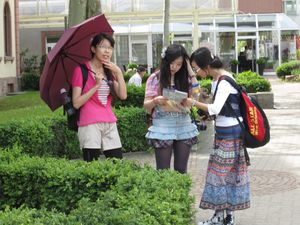 Further along the road, 3 Japanese tourists were busy studying a map: had they missed the bus for Le Mont St Michel ??
We decided to stick to Road 3 instead of following the Radweg through Speyer. This way we saved a few km, (so we had thought) for extra time in Heidelberg.
The cycle path ran along Road 3 but sometimes took off through neighbouring villages, forests etc... Not sure we made the right choice, but it was too late now.
Approaching Heidelberg was a nightmare. The cycle paths gradually disappeared. The roads became extremely busy. Had to ride along "shared side-walks" that called for twice as much attention due to pedestrians, children, dogs etc...
The South end of town belongs to the Americans. The US Armed Forces European HQ spreads along both sides of a long and wide avenue leading to the city center. It's a town within the town, with living quarters, schools, sports grounds, play grounds, etc...
The main entrance on the left is interesting as far as its architecture is concerned.
Having to wait for the lights to turn green at an intersection, I decided to take a picture. Two seconds later I heard a loud "Hey you !" coming from the guard house on the other side of the avenue. "Me ?"; "Yes, You !!" was their answer.
They called me across the road, told me I was not allowed -for security reasons- to take pictures of their barracks and demanded that I destroy the picture in front of them... Having never done it on the new compact, they took it from me and did it themselves... At that moment, my only fear was that they would erase all the pix taken since we'd left Strasbourg. But they didn't..
You don't mess around with the Army, even though the whole base is shown in full detail on Google Earth...
Daniel, who had not seen the scene, had moved on and was starting to get worried. When we met again, I told him what had happened.. Wasn't surprised, had had the same experience in France !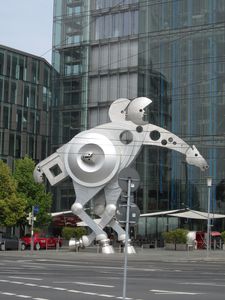 A quick lunch at a Turkish place, a stamp in the Travel log at the Tourist Büro outside the HauptBahnhof and a leisurly visit of the old city took care of the rest of the afternoon.
There was no way we were going to climb up to the Castle with the bikes. It was covered with scaffoldings and the road to the front gate was really too steep. (There would be lots of opportunities for bike-pushing up steep hills ahead of us...).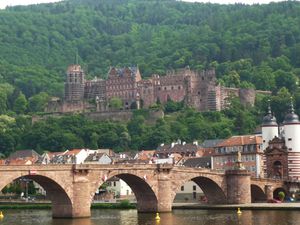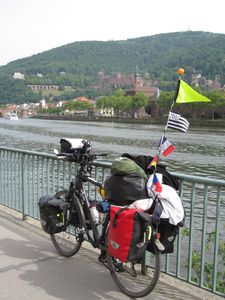 We stopped at the first camp ground along the river Neckar, just outside Heidelberg.
It was OK but definitely below standards compared to the city we had just been through. (had we known, we would have continued a few more kms to Neckargemünd.. next time !).
Tents, showers, the usual ritual... and off to the Aldi shop on the other side of the river, over a narrow cycle/foot bridge overlooking a huge lock.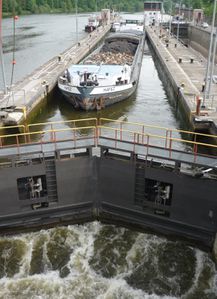 Beautiful day except for the Army episode. Acacias and horse chestnut trees in full bloom, meadows full of white and yellow daisies, birds, sun, wind...
During the day, we had come across a few "Besenwirtschaften", 'broom taverns' (winegrowers who open their business to visitors for a short period during the year). They were signaled by a birch broom tied to their sign.
Pity we could not have planned a stop !