Via Carolina, a bicycle trip from Paris to Prague - Day 16
Publié le 30 Octobre 2011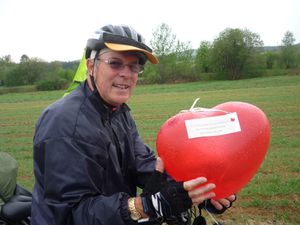 May 12th 2011. Hirschau - Waidhaus, 92km, 5h54, 14.5 kph.
Wet and miserable: grey skies, rain and thunderstorms most of the day.
Along Road 14: Schnaittenbach, Holzhammer, Wernberg Köblitz, Grünau, Unterwildenau, Weiden i. d. Oberpflaz, Neustadt an der Waldenaab. Then: Bockl Radweg via Störnstein, Floss, Abersrieth, Altenstadt bei Vohenstrauss, Vohenstrauss, Pleystein, Lohma. Overnight at Waidhaus camp ground.
Heavy rain woke me up at 5.00AM. Got up at 6.00AM. Tent was soaked as usual, but I was now getting used to this and did not worry quite as much as the first time.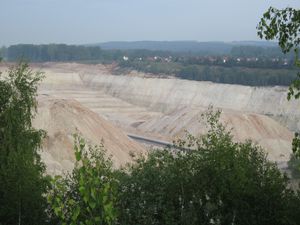 We started off on Road 14 after passing by the huge open pit kaolin quarry... and an incredibly long railway refurbishing machine that was stopped alongside the road.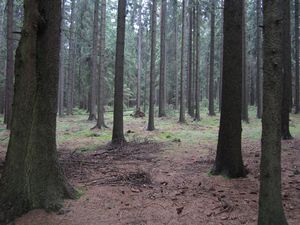 Road 14 lead us through pine forests, sceneries that I had imagined when studying the maps last year.
After coffee and a sticky bun in Wernberg on the village square, we headed North, along the Naab river that flows without haste through woods and meadows. Entering one of the villages along the road, I rode by a cross with Christ, Mary and a third, smaller figurine in a box below... probably the local Saint ?
In Weiden we stopped for a quick look around. Not much to visit but the bakeries had some very appetizing poppy seed cakes, so ....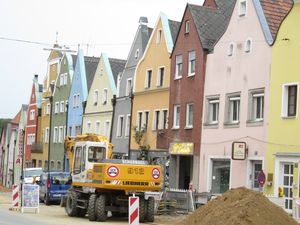 Neustadt, just a little further: went to the Rathaus for a stamp in the travel log and spent some time talking to the very helpful city employee who loaded us with maps and other local info., even covering the immediate Czech side.
The rain had started and was becoming a pain.
We'd decided to stop in Störnstein at the Gigl restaurant. The place was supposed to be the hometown of the World champion "beer cask roller" ! Couldn't miss such a highlight on the trip! After riding back and forth through the village, we finally found the place.... closed ! By that time it was pouring rain !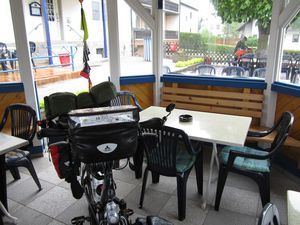 I parked my bike inside a small covered arbour while Daniel went to see if we could use one of the tables to have our lunch. The owner was very seriously unpleasant and threw us out. Told us we could find a place to eat in Floss, 5 km further down the Bockl Radweg. A few minutes later we were arrived there. The town was at the bottom of a very steep hill. The restaurant shown on the signboard seemed OK..
At 1.00PM, having locked the bikes, soaking wet, looking like a bunch of tramps, we were about to enter the one and only eating place in town. No luck, the owner told us we were too late and that the only option was a butcher shop on the other side of the street. Second very unpleasant encounter in less that an hour. (Fortunately, these would be the only two during the whole trip and would be offset by some extremely generous people met later during the day).
The butcher shop had a snack area with a couple of tables. The small pizzas, with salad and beer and the warmth quickly erased our bad feelings.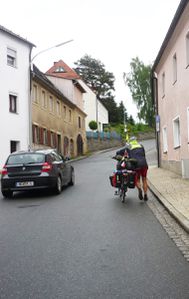 A bike push up the hill, and off to Vohenstrauss. The rain had ceased but the sky was very low and grey. A few kilometers down the road, Daniel stopped at an intersection. He was worried about his rear wheel. He'd broken a spoke during the morning and we had fixed it so that it wouldn't do any additional damage. However, he was not feeling happy at the idea of doing another 500 km with his damaged wheel. Having read Jean Marc's account, we knew that some sections on the Czech side would be rather rough..
We decided that the best approach would be to stop at the first cycle shop, hoping to find one this side of the border, and get Daniel a new wheel.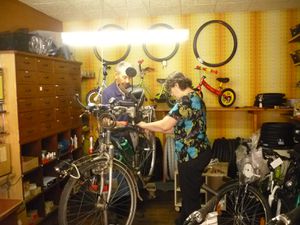 The morning had been disappointing; the afternoon finally made it our lucky day.
In Altenstadt bei Vohenstrauss, a village rather that a town, we came accross Max Stich's cycle shop. Max is 84 years old and he runs the shop with his daughter.
Neither one of them spoke a single word of English but we managed to communicate, and, in less than one hour, the wheel had been disassembled, reassembled with the original cassette, tested and was ready to go... all that for € 42 !
Thanks to the two of you for your competence and generosity !...
and thank you for giving us directions to shorten the day by a few kilometers. This gave us the opportunity to meet two other very hearty inhabitants of Altenstadt bei Vohenstrauss...
...As we left the shop, the skies suddenly turned dark grey and the first cold, fat and wet drops of another thunderstorm were felt. We had to make a quick decision to avoid being drenched. Again, fortune smiled on us... Barely 300m away from Max Stich's there was a municipal workshop, its huge doors wide open, with a truck or two being fixed inside.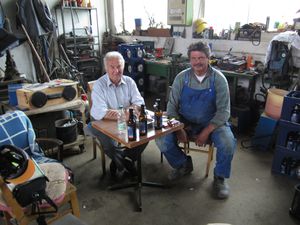 I asked the manager if we could take shelter under the canopy for a few minutes.
Thomas, told us to come inside and invited us to his office for a couple of beers. Another gentleman (his father ?) was already sitting there. The office was a kind of warehouse, full of various machine tools, boxes, large sheet-metal components, welding sets, spare parts, and scrap in all sizes and shapes. In the center of all this: a small table and a few chairs... and plenty of crates of local beer. Thomas understood enough English for us to explain where we were coming from and where we were heading. They just couldn't believe it ! Fortunately, the storm didn't last too long and after thanking them profusely, we were back on our metal donkeys, fully equipped in "deep-sea" clothing, just in case....
The last kilometers were not too tough although the legs were not as strong as they should have been... The cycle path lead us once again through a pine forest and came out in the open a few kilometers from Waidhaus.
Did our shopping at the local Netto and went straight to the camp ground where we picked a place in a grassy area surrounded by hedges. The weather had improved and we even enjoyed a few rays of sunshine.
A lady from a neighboring caravan, who seemed slightly intoxicated, kindly helped us out, calling the camp attendant who had already left.
The wet tent was unrolled, set up and dry in no time.
Evening ritual with plenty of calories, to keep warm...
Again, there were very few people in the camp so we tied our clothes line between the posts holding the roof above the ping pong tables and hung all our soaking clothes to dry. The bikes spent the night under shelter too !!
Tomorrow: Czech republic. The border's only 2 km away !
The people in the caravan next door were, indeed, expert drinkers !!!