Via Carolina, a bicycle trip from Paris to Prague - Day 18
Publié le 28 Octobre 2011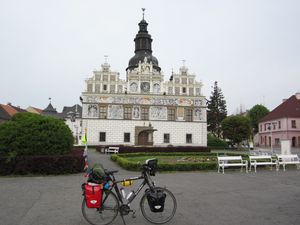 May 14th, 2011. Stribro - Rokycany (Kocanda), 67 km
Cloudy, sunny, storms.
Via Vranov, Pnovany, Jezna, Plesnice, Bdeneves, Kozolupy, Plzen, Doubravka, Kysice, Ejpovice, Rokycany. Bivvy in Kocanda.
We were ready to get up at 5.00AM but decided to wait until 6.30AM to move and prepare for another day of roller-coaster pedaling... Tents were folded -this time, finally dry-, bags were packed and the aluminium donkeys were loaded in anticipation of an early start.
Just before 8.00AM the manager arrived to unlock the main gate of the hotel and suggest breakfast. It didn't take long to decide: by having it now, we wouldn't have to stop a bit later, as we had been doing so far.
Breakfast was serious: eggs, sausage, cucumber, tomato, cheese etc.. plus plenty of tar-black coffee; enough to keep the cyclists alive and pedaling for a while.
Back to the main square for a few pictures of the beautiful town hall. Unfortunately, the sky was overcast !
We then took off following the signs and, after a couple of kms, realized that we were going the wrong way. Back to the city center; down hill to the river and up the other side to the train station where the road to Vranov started.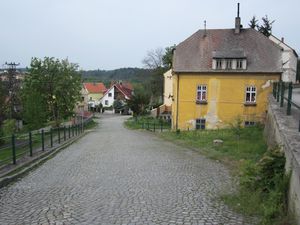 On the bridge above the railway tracks there was a group of people with cameras, all looking in the same direction. Daniel's comment was that they were probably waiting for some minister or a local big-shot coming by train. After enquiring, it turned out that the Czech President, Vaclav Klaus, was on an inaugural train due any time now. So we decided to wait too. After all, if such an event had happened at home, the whole area would have been sealed off; hundreds of 'Keystone' cops would have been running all over the place, in utter confusion, helicopters would have been flying up and down the railway line; in other words the peons would have been condescendingly isolated from our republican Sun Kings.
One of the guys on the bridge gave us a timetable showing the times at which the train would be passing through other stations along the line. "No thank you" we told him... no way we were going to backtrack down the road, even for the Czech President.
Once the train was out of sight, we started off towards Vranov pedaling up and down, over an endless number of hills, alongside lakes, through forests and empty villages, most of which were in a rather sorry state.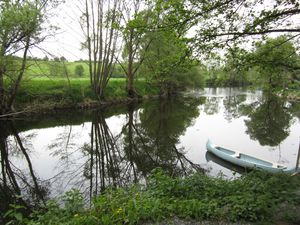 People met along the road were not very talkative either...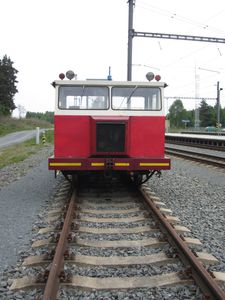 Pnovany railway station with its red locomotive that seemed to have come straight out of a children's pre-scool story book...Jezna with its abandoned church with very interesting windows...Plesnice with its row of pretty datchas overlooking the river... bumpy paths through fields and forests along the Mze river all the way to Kozolupy...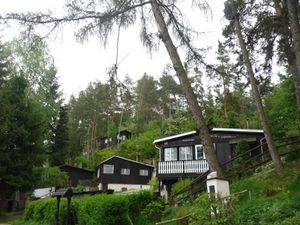 At that stage we'd had enough of having our bones shaken on the very uneven tracks and decided to go straight to Plzen by the very busy #605 road, the only available alternative.
Plzen: Beer Mecca ! A terrible place to visit if one likes beer !
When we got there, the sky was grey and low and the suburban industrial and residential areas looked gloomy and depressing. Passed by the ramshakle Skoda factory on our way towards the city center where the Saint Bartholomé church marks the end of cycle path # 37.
It was midday. The sun suddenly managed to break through, casting a very different light on the buildings surrounding the church square, even brightening up the massive dark-stone church itself.
For lunch we'd decided on Pizza and Pilsner beer... in an Italian restaurant. We hadn't been very active during the morning, covering a mere 40 kms... the afternoon performance would be no better...
After a quick visit of the main sights, we took off along the road that the Tourist Buro had indicated to us. In no time we were lost. We checked with a guy who had no idea of what we were talking about, and the cops couldn't read the map... Cycle path N° 3 was nowhere to be found.
Finally, after several attempts (or was it because there is a God protecting beer drinkers ?) we ended up in front of the main gate of the Pilsner Urquell brewery.
Some event was going on inside so we decided to have a look. We were seriously ambushed !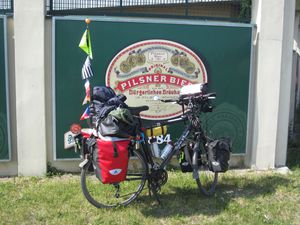 Two very helpful guards offered to keep an eye on our aluminium donkeys while we investigated further, in search of an official Pilsner stamp !
By the time this was achieved, the weather had turned hot and sunny and there was no way we were going to leave without having tasted the 'real thing'...
By 4.30PM we managed to extract ourselves from the festivities. Cycle path N° 3 started right outside the main gate, so, within minutes, we were finally on our way East.
After a couple of hours we arrived in Rokycany, did our shopping at the local Lidl and started looking for a campground. No luck: the closest one was quite a distance away and would have put us seriously off-course. We decided to continue until we found a suitable place for a bivvy.
In Kocanda, on the outskirts of Rokycany, a Czech family was enjoying the early evening in the garden of their small Datcha, drinking beer and preparing a barbecue.
As we went by they waved.... Kolossal mistake ! Immediate U-turn to ask them if they knew a place where we could stop for the night.... for instance alongside the lake behind their datcha... They discussed the matter between themselves and showed us a super place between their garden fence and the lake, where the grass had just been mown. They told us that there would be no problem for us to stay there, since the lawn more or less belonged to them.
In no time the tents were up. While we were going through the evening rituals, the husband came along with some beer... I pulled out a couple of small 'Eiffel Towers' that I had bought in Paris just in case... a few minutes later the husband was back with 2 pieces of cake: it was his daughter's birthday !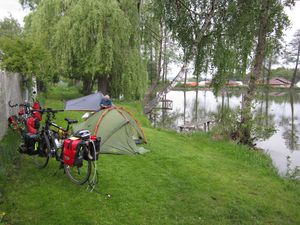 Kind and generous people; what a pity we couldn't talk to them !
We'd hardly finished the evening meal that the storm hit us ! It had been 'brewing' all afternoon and had finally selected its landing-strip: the Rokycany/Kocanda lakeside where we had just set up for the night ! Straight into the tent; we'll pick-up in the morning...
And the rains came down... all night, non stop!