Via Carolina, a bicycle trip from Paris to Prague - Day 20
Publié le 26 Octobre 2011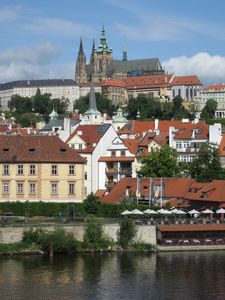 Monday, May 16th 2011. Prague.
Mostly excellent weather with a few drops of rain late morning. Wind !!!
Fully awake at 5.00AM we had to wait until 7.00 for the breakfast room to open. We then collected the bikes from the laundry room and rushed off to the main train station to buy the return tickets to France.
The first stop was at the information counter to check trains and define the route, then over to the ticket counter to buy the tickets. We'd taken the bikes inside to be safe rather than sorry and managed to aggravate the security person who demanded that we park them in the area provided outside...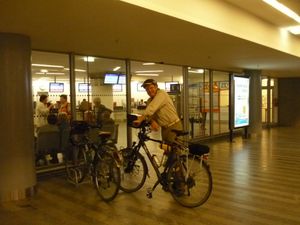 The trip back home would be Prague - Offenburg by night train equipped with a cycle carriage. The second leg was Offenburg - Strasbourg. We decided to take care of the third leg from Strasbourg to Paris in Strasbourg since we were not 100% sure that the TGV would accept bicycles.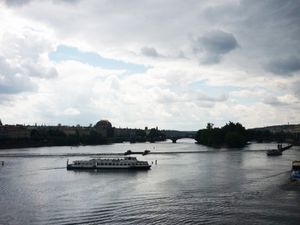 Departure from Prague at 18.31 Tuesday evening. Arrival in Strasbourg approx 8.00 Wednesday morning. Within 20 minutes we were done and on our way to the city center.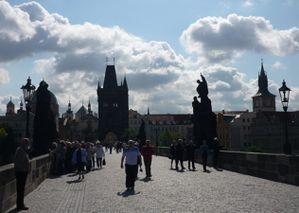 Along the river to Charles bridge lined both sides by dark, pious statues... up the hill on the other side to the castle and cathedral area.. Mid morning coffee in a small place where I managed to blow the main electric fuse box using the hand dryer.. The managers were not surprised... it happened all the time...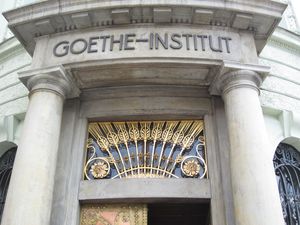 We continued our way through all sorts of areas and gardens, along narrow streets, through cobble-stoned squares, passing by whole streets of breath-taking architectural wonders. The morning light added to the magic!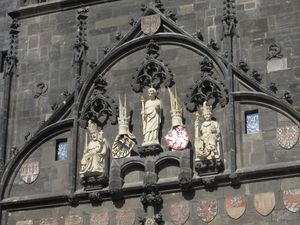 Difficult to refrain from taking pictures of every building in sight.. In spite of everything happening "above" us, we quickly learned to keep an eye on the traffic and the trams that raced by without much of a warning.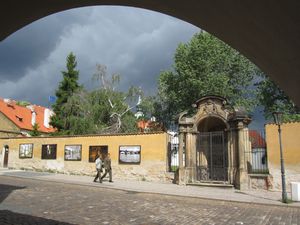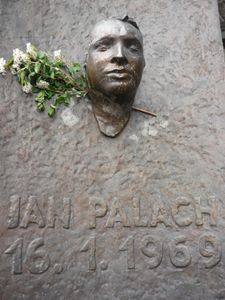 Returned to the hotel to drop off the bikes and continue on foot. Bought a bunch of post cards and sat in a café opposite the astronomical clock to write them. Back to the hotel late afternoon to prepare the bags.
Spread my tent out in the hotel corridor to fold it and hung the tarpaulin used underneath it from the bedroom window, to finish drying.
Dinner in town at a "Czech" restaurant. Digestive walk around the main square that was back to normal after yesterday's celebrations..