Via Carolina, a bicycle trip from Paris to Prague - Day 4
Publié le 8 Novembre 2011
April 30th 2011. Brusson - Saint Joire, 82km, 5h29, 14.3 kph
Beautiful weather all day !
Via Canal de la Marne au Rhin, Pargny sur Saulx, Sermaize les Bains, Contrisson, Mussey, Val d'Ornain, Bar le Duc, Ligny en Barrois, Naix aux Forges. Bivvy on the Soccer field in Saint Joire.
We left Brusson at 7.40 AM. I was getting slightly better organized ! No problems following the Canal de la Marne au Rhin. Some sections were excellent, others pretty poor. Getting used to it was no big issue !
Morning stop for coffee and a second breakfast at the 'Ancre d'Or' Café in Pargny sur Saulx, right alongside the canal.
Taking pictures I got delayed and lost Daniel until we met again in Bar le Duc at the Media center, a beautiful Château that had been offered to the city by a very wealthy banker in the late 19th century/early 20th. The wood paneling, the stair-cases and ceilings in the building were superb, so was the park which becomes municipal camp ground in the Summer.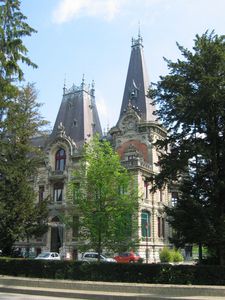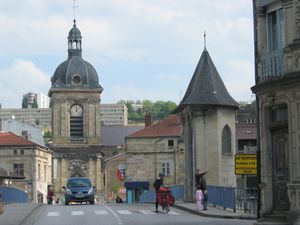 The Renaissance section of the city is located up a steep winding hill, in the upper parts of town: we decided that we would forego the visit and look for a place to have lunch instead.
On the way out of town, we ended up in the 'restaurant' of the local "Auchan" super market. The girl at the cash desk was from Remungol, a small village located a few km away from Daniel's place: small world !
The food was awful and we were soon on our way to Ligny where we arrived mid afternoon.
Did some shopping for dinner in a small 'Carrefour Market'; locals somewhat surprised by our appearance: the two previous days without shaving nor a shower were beginning to show...
Another 15km along the canal and we got to Saint Joire where we had decided to stay overnight. Beautiful afternoon!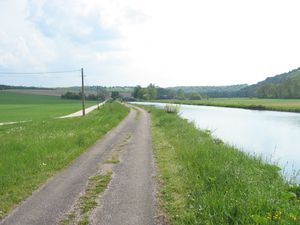 A small fair was in full swing on the village grounds, near the soccer field. All 50 local inhabitants were there, captivated by "La Suzanne", a refurbished steam engine that was being carted from town to town on a low-bed, in hope of attracting funds to rebuild 4.2 km of proper tracks that would give her a second Life.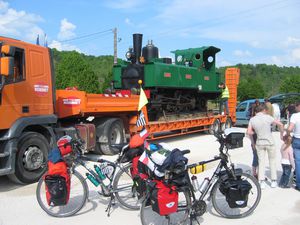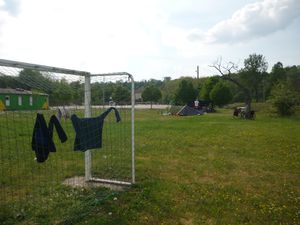 Daniel had a word with the Mayor who obligingly allowed us to set up the tents at the end of the soccer field. We could also use the water tap that barely emerged from a lump of wet and filthy insulation material... Couldn't complain: as they say, it's the intention that counts ! The nets were well appreciated !
Tap too low on the ground and water too cold to consider washing... The shave and shower will have to wait till tomorrow !
Good day on the bike; Super bivvy, far from trees and birds ! Excellent meal !
In 'bed' at 9.00PM (days are still not very long at the end of April...).