Via Carolina, a bicycle trip from Paris to Prague - Day 7
Publié le 5 Novembre 2011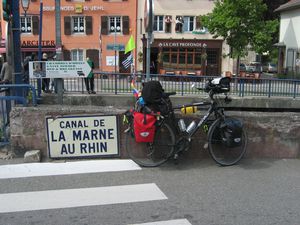 May 3rd, 2011. Moussey - Waltenheim sur Zorn, 95km, 13.5 kph.
Beautiful Weather !
Via Réchicourt le Château, Gondrexange, Canal Marne au Rhin, Heming, Xouaxange, Hesse, Niderviller, Arzviller (by road due to tunnel), Saint Louis, Lutzelbourg, Stambach, Saverne. Bivvy in an orchard in Waltenheim sur Zorn.
Up at 6.15 AM due to 6°C outdoor temperature. Breakfast in the farm yard.
Mr. Jung, didn't want us to mix our Muesli & milk with the nettle and thistle chemicals he was spaying in his field right next to the picnic table. He told us that it was bad for the stomach !
Dressed in winter cycling gear we took off towards Gondrexange on a forest road. Didn't trust our ability to make our way there via the lakes and didn't need to add any unnecessary kms to what was already going to be a long day.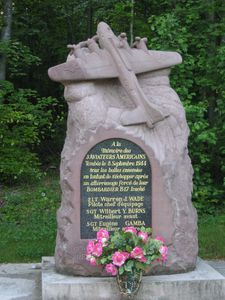 Short stop at a memorial where several US airmen had been shot on the ground by the enemy during WWII. The road wove through a cold, misty and dark pine forest, finally emerging in misty meadows above Gondrexange.
Quick stop for coffee. Cash from an ATM at Crédit Mutuel, then back to the canal for a long stretch over a rather poorly maintained towpath that even drove us through the yard of a Holcim cement plant...
A woman tractor driver, busy towing a heavy-duty mower, told us that things would get better down the road... Turned out to be a rather subjective encouragement.
In Niderviller we had to leave the canal that continued through two tunnels and make our way to Artzviller by road, climbing over a rather long and painful succession of hills.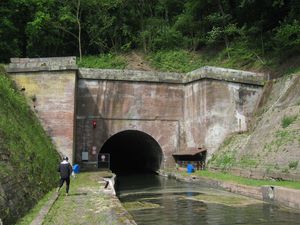 Back alongside the canal, the towpath had now become a flat, smooth boulevard !
It was going to be several kilometers of pure pedaling pleasure.... until we hit the closed gate at the end, right next to the monumental barge-lift in Saint Louis.
The striking lock-keepers, barbecueing hot-dogs on the other side of the canal, had made sure they wouldn't be disturbed... Daniel let them have it in all sorts of non-savoury words and expressions...
We pedaled back several kilometers until we found a very steep path leading down to the road below.
Although this incident added several unnecessary kms to our trip, it gave us the opportunity to discover the Lehrer Cristal factory and shop, located a few hundred meters from the base area of the barge-lift. Several company glass-blowers were having lunch in their small cafeteria and joyfully invited us to join them with our sandwiches. Thanks !
After a couple of beers to wash down some rather dry tuna fish, we were back on the track, heading towards Lutzelbourg (in Alsace) on a super asphalt path. Several boats were stuck along the canal, waiting for the comrades to go back to work... An ecstatic experience, at € 1,800 per week !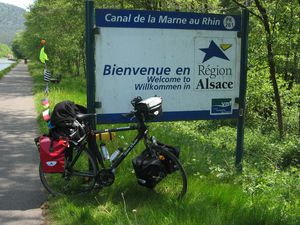 We got to Saverne mid-afternoon. Saw some very interesting buildings, especially along the main street. Massive Château.
The Tourist office made arrangements for us to stay at a B&B located in Waltenhein sur Zorn. The day had been long and hot but the thought of a shower, bed, beers and evening meal provided us with the strength to fight another battle against the wind. At the turn-off we got mixed upin our directions and ended up in Mommenheim, 2km from Waltenheim sur Zorn.
Finally, when we reached the B&B, we found out that there had been some confusion in the booking: we could only eat there: they were fully booked !!! ...but we could set up the tents in their orchard at the top of the hill, anywhere we wanted.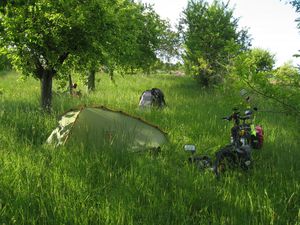 The orchard was on a hill-side making things rather difficult but after some walking around in the tall grass we found a couple of places that seemed flat enough.
Once the tents were up, the two cyclists took off for the ritual evening beers.
Nothing in Waltenheim, wrong day of the week...so off, once again, to Mommenheim where all the pubs were closed too... except for a Turkish kebab take-away with a well stacked fridge.
The food served at the B&B was excellent; so was the night spent in the orchard in our billion star hotel !