Publié le 12 Février 2013

A bike ride from Paris to Brittany, along the Seine, the Loire and the Nantes to Brest Canal. Summer 2011 - Day 1.
During a 2011 bike-ride from Paris to Brittany I wrote a series of articles describing the route, the scenery and the highlights of my trip. I hope that this English translation will be helpful to those who have a hard time reading French and who would like to discover France in "slow-motion" mode.
Paris - Malesherbes. 90km. (Malesherbes is the end station of the RER D line)
I was supposed to leave Paris on the Wednesday but the wind was so strong and the clouds so menacing that I decided to delay till the following day. A late start prevented me from covering the distance that I had scheduled that morning, meaning that I had to pedal longer during the afternoon..
My friend Daniel, with whom I cycled to Prague a couple of months ago, is so right when he says that you should do as much as you can before you stop for lunch. "Afternoon kilometers" just seem to drag on endlessly !
Usual ride down from Buttes Chaumont to Bois de Vincennes, along the cycle path that runs between the Boulevard des Maréchaux and the Périphérique.
Quick ride through St Mandé. River crossed in Charenton-le-Pont at Pont Mandela. Continuation through a number of depressing towns strung along a grey and dull river Seine... Ivry, Vitry, Choisy, Ablon sur Seine, Athis Mons, Viry Chatillon, Ris Orangis, Evry... and finally Corbeil Essonnes... that I reached after making my way through a succession of cycle paths, tow paths, streets, parking lots, industrial estates, embankments, sand and gravel depots, parks.. enjoying even a couple of kilometres on National road N° 7...
Exiting Paris by bicycle is a military assault course... (except along the Canal de l'Ourcq that heads North-East).
The weather was quite different from the first day of my 2010 expedition to Brittany. Last year, I took off mid-July for a week of solid blue sky and seriously hot Summer temperatures !
In Corbeil - Essonnes, first stop was the tourist office for a stamp in my Travel Log and to obtain some indications on how to avoid main roads on my way over to the Essonnes Valley. Most of the time, tourist offices are very helpful.
This one was really super !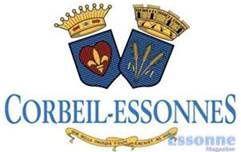 The old town is down by the river, meaning a long climb to get out of the Seine Valley. A sudden rain-storm added misery to the exercise. Completely drenched, I decided to stop at the top of the hill and go for a quick "plat du jour" at a local 'Les Routiers' (trucker restaurant). The food was plentiful, cheap but awful ! ... but I did manage to dry up a little...
Finally out of the noisy built-up suburbs, I reached the Essonnes river. Cycling along its meanders is a dream since the ride is mostly flat. I have to admit though that I did have to push the bike when I left Saussay, on my way towards the D31 that leads to La Ferté Alais.
Nothing of great interest along this route. Strings of bedroom villages with blocks of sterile, empty houses that all look alike. The only inhabitants seem to be the dogs that are left behind to bark all day, until their owners return from work ! Hard to believe that thirty, forty years ago, this was still very rural and that the villages boiled down to the few stone buildings surrounding the church square, neatly planted with linden trees.
The section after La Ferté Alais, through Guigneville, Jouy, Bouttigny is a pleasant ride. The narrow road runs through woods, mostly birch and pine trees trying to grow among huge boulders of sand stone.
An old cast-iron plate, fixed on the wall of an equally old building, reminds passers-by that "Begging is not permitted in the Seine & Oise district".
Beautiful castle in Bonnevaux.
Malesherbes reached at 17h00 under a very menacing sky.
I had planned to camp that night but chickened-out. Instead, I went for the local 'Logis' hotel : "L'Ecu de France". They didn't serve food that evening but recommended the Indian restaurant at the top of the hill. Excellent choice !
Unloaded Rock'n'Roll and locked it up in the hotel garage for the night.
Endless suburbs along an uninteresting Seine river + rain, wind and low skies.... Getting out of Paris had not been very pleasant. Tomorrow can only be better !