Publié le 31 Octobre 2011
May 11th, 2011. Nürnberg - Hirschau (kaolin capital of Germany), 86km, 5h51, 13.7 kph
Very good and hot weather.
Via Zeppelinwiese, Ben Gurion Ring, Business Tower, Wörhd lake, Dr Carlo Schmid Str., 5 River cycle path, Hammer, Lauf an der Pegnitz, Ottensoos, Reichenschwand, Hersbruck, Hohenstadt, Pommelsbrunn, Sulzbach-Rosenberg, Road 14 to Hannbach, Schalkenthan, Kainsricht, Gebenbach, Hirschau: Monte Kaolino Camp Ground.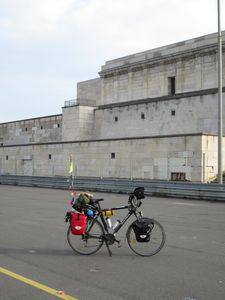 The Nürnberg camp ground was fast asleep when we left at 7.00AM. Very little dew but the tent was folded wet; it'll have to dry tonight.
Daniel suggested that we visit the Zeppelin Stadium which was on our way out of town.
7.15AM: alone in the middle of the Zeppelinwiese, originally the landing site for Zeppelin airships... Later, it became one of the high places of Nazism and the very thought of this sent shivers down my back. The massive and austere buildings, designed by Albert Speer, architect of the régime, futher contributed to my feelings. Although the structures are no longer in very good condition, one is still allowed to climb up the terraces and stand on the small platform from where the Führer delivered his electrifying speeches in the 1930's.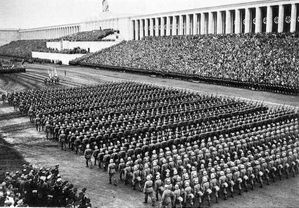 I had parked Rock 'n' Roll on its stand, right in the middle of the huge area where the parades took place and where the fanatic Hitler Youth performed massive gymnastics ballets to the glory of what was supposed to last 1,000 years... and all this seemed just as surrealistic as me standing where Hitler once stood !
The early morning silence added to this unreality... there was nothing to disturb my thoughts...all my senses were on edge to "feel and absorb" this place, to imagine the period through the pointless hope of picking up ripples from the blast, that the past 80 years might not have totally absorbed, yet...
The stadium had been built to contain over 200,000 people. The low terraces and access towers on the three other sides of the immense square were in very poor shape, taken over by bramble bushes, wild flowers, tall weeds and nettles. Time had also taken its toll on the soft limestone.
Nürnberg, Berlin... two cities bathed in history and tragedy !
After cycling to the other side of the monument, which, in fact, was the main entrance, we followed a very wide street that ultimately lead us to the 5 River cycle path.
Super ride through fields lined with willows; along narrow streams... excellent signage.
The cycle path started at the Wörhd lake, heading straight East. First stop in Hammer, an old village of low wood and red sandstone houses.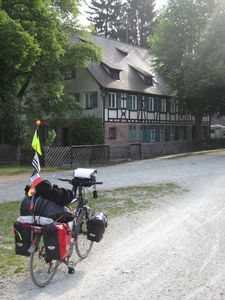 We were ready for morning coffee and decided to get back on one of the roads leading into/out of, the city (road 14). There, Daniel finally got a picture of the 'Nürnberg' city sign. (Yesterday we had'nt seen any on our way into town, too busy looking for the Center..).
Coffee at a bakery in Schwaig. I walked into a post-office to buy some stamps. People followed me outside, asking all sorts of questions about our trip, the bikes, the load... !
Long and easy trip on flat terrain through Lauf and Ottensoos. In Reichenschwand we stopped at a tyre repair shop to ask for some air... we'd lost a bit of pressure since the last check, a few days before. The guys there were super and let us use the blower to do some dusting:
the bikes were beginning to need it !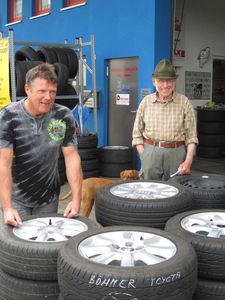 In Hohenstadt it was time for lunch. A couple of Wurst with potato salad and enough beer to wash it all down seemed an OK proposition. After lunch, the road continued on to Sulzbach-Rosenberg, up and down, but manageable... (we were starting to understand some German, and places ending in 'berg' were usually not good news..)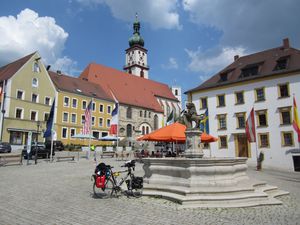 I picked up a bicycle pump along the way and took a few pictures. By that time Daniel had disappeared. No panic : back on road 14, straight to Sulzberg where I waited for him on the lovely village square.
The afternoon was extremely hot. After a cold drink in the shade of a sun umbrella and a stamp at the tourist Büro, we were off once again on a road that was supposed to be perfectly flat...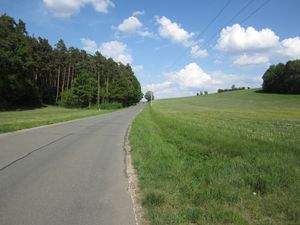 A couple of nice steep hills stood between us and Hirschau and nearly finished us off.
We got to Hirschau at 5.00PM, did the shopping and arrived at the camp ground after a final 2 km ride that seemed endless.
The attendant was gone but after a quick call, he arrived and we were inside 15 minutes later.
The Monte Kaolino camp site is incredible. It is at the base of an artificial mountain of kaolin waste. There, people can practice all sorts of 'mountain' sports ranging from skiing to bobsledding down a rail track that goes for ever.. Some idiots were even climbing the huge pile, lost in clouds of extremely fine dust...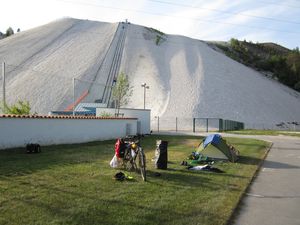 The extraordinary camp ground was nearly empty, which was fine for us. The tents were up and dry in no time. We took over all the facilities, even getting some washing done (about time...). It was hung in the ping pong room that was at the top of a glass tower just 'round the corner from our tents. The place was like a green house and by morning, everything was dry.
Evening ritual, dinner, dishes and straight to bed. The Czech border was getting closer!